Angelica Johnson-Dávila: The Secret to Successful Luxury Branding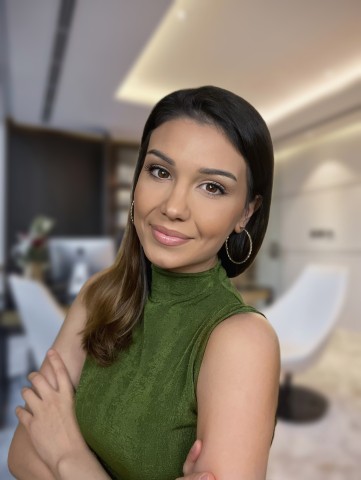 Angelica Johnson-Dávila is a multi-business woman, mother, entrepreneurship author and wife. Angelica describes herself as a "visionary who can see someone's potential, skills and talents then turn them into top entrepreneurs". Angelica began branding herself after being introduced to the modeling and affiliate world. For 2 years she worked on partnerships and has been featured in swim wear promotions, music videos and was the face for clothing brands and charities. This led her to open an Instagram and within weeks she gained around 5k followers and had many offers for partnerships and gigs. Later, she paused her sponsorships and modeling to pursue other career avenues until late 2016 when she met her husband. After her first child was born she got back on Instagram to continue branding herself online. During the 2020 pandemic and taking advantage of everyone being home and on Instagram she took her content to the next level and sponsorships began pouring in.
Having roughly over 40 thousand followers now and having been noticed locally and featured in digital press internationally, she wrote down and mapped out her strategies that created the brand she has today. Poised, secure, and well dressed Angelica makes it look easy. On social media and in all of her interviews, she is painfully honest but ready to give the support and guidance to help others accomplish what she has. Here is the secret to her luxury branding empire.
"I am what you consider a high-flier" states Angelica "if I get an idea and I believe in it I will never let it go. I will make sure it comes out of my head and into the world". It's not enough for her to do the bare minimum and rely on hope and motivation. Angelica uses her branding strategy of 'PVM' purpose, vision and mission.
Angelica goes in depth by saying "Let's say you're barely starting off, you're like what do I do first? You figure out your purpose. What are you about, are you a coach? A contractor? An influencer? Okay with your title, what do you want to do for your clients? What do you want the world to know you for? That's your purpose. Next, do a 3 month, 9 month and 12 month vision board. In 3 months what do you want your brand to look like? In 6 months what do you want your brand to represent? and in 12 months what will your brand be known for? That's your vision. And your mission is making sure that no matter what difficult waters you'll need to tread, make sure it gets done."
Another strategy Angelica uses for branding is the power of authenticity. "I can't tell you how many times I've gotten clients tell me 'I hired you because your funny as hell' or 'I hired you because you don't play around and put up a nice girl front' it's so important to show up as yourself because the truth will always be revealed and if you brand yourself as this holy, nice person and then you get caught cussing like a sailor and getting kicked out of a bar you'll look like a fraud and no one wants to hire a brand who's just another façade. High paying clients like legitimacy, they don't care if you let the dogs loose on people who try you as long as your work is top tier quality and your brand is really 'you'".
Her main strategy for luxury branding is consistent interaction within the luxury world. Angelica has obtained exclusive 1:1 time with some of the most powerful and wealthy individuals in her area that turned into clients. These opportunities come from specifically attending and representing her brand and company at high end events and lounging sites. However, her inner Robin Hood for information has allowed her to take these opportunities and knowledge to then create luxury brands out of small businesses and up and coming influencers that also hire her so that everyone gets a chance at the table of triumph.
Angelica explains more about her achievements in the branding sphere in her book 'Prevail: Destroy Limits, Create Opportunities' which can be found on Amazon or at her link on Instagram @angelicajodav. For more information on how to get in contact with Angelica and work with her you can visit her website www.angelicadavilaprado.com or send her a DM on Instagram.
Media Contact
Company Name: Angelica Davpra Luxury Brand Enterprise 
Contact Person: Angelica Johnson-Dávila
Email: Send Email
Country: United States
Website: www.angelicadavpra.com