9.1% CAGR To Make Rare Earth Metals Market $15,473.3 Million Opportunity by 2030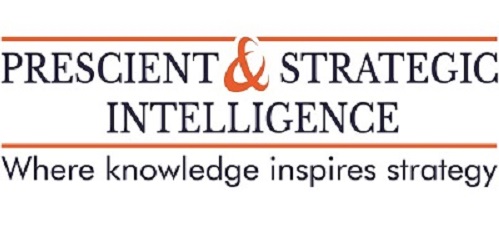 The Asia-Pacific rare earth elements industry is projected to observe the highest growth rate, around 10%, during the forecast period.
As stated by market research firm P&S Intelligence, the total size of the rare earth metals market was $7,063.9 million in 2021, and it will rise to $15,473.3 million by 2030, with a 9.1% CAGR in the coming years. This is mainly because of the growing use of these elements in the energy, aerospace, consumer electronics, and automobile industries.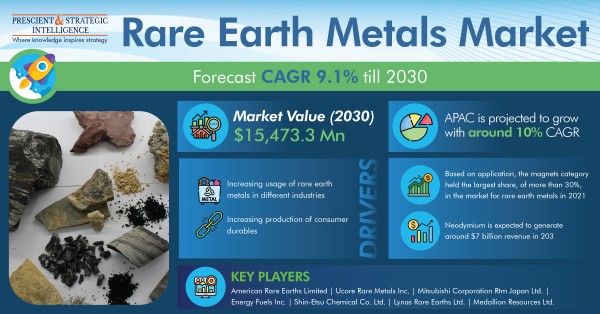 Increasing Requirement for Semiconductors Propels Rare Earth Metal Demand
The advancements in IoT, AI, and wireless connected devices are propelling the requirement for semiconductors. A single system on a chip powers most of the new semiconductor devices, for high integration levels.
Moreover, SoCs let the devices work with high power competence and improved security, by bringing together processors, sensors, memory, power management, connectivity components, and RF transceivers on a single unit.
During the pandemic, there was a shift toward digital communications, which has augmented the necessity for SoC-based devices, where the semiconductors are made of rare earth metals.
Request for sample pages of this report: https://www.psmarketresearch.com/market-analysis/rare-earth-metals-market/report-sample
Magnets Are Used Most
Magnets have the greatest demand, with an over 30% share in the past, and this application category will retain its ascendence over this decade. This is credited to the high necessity for magnets in electronic devices, including speakers, sensors, and headphones.
The catalysts category follows the magnets category, as catalysts containing rare earth elements are used widely for absorbing, releasing, and storing, and oxygen, while maintaining the environments in which they exist.
Additionally, glass and polishing category generates the third-highest revenue, with the most-commonly utilized minerals in glass being ytterbium, erbium, and neodymium.
Moreover, the consumption of cerium oxide abrasive in the fine polishing of lenses, prisms, liquid crystal panels, and the glass substrates of hard disks is growing.
Consumption of Rare Rath Metals Burgeoning in APAC
APAC will have the highest growth rate, of around 10%, in the market in the coming years. China, which has the largest reserves of the key rare earth elements, is their major producer and contributes significantly to the global output.
Additionally, North America will follow the APAC region, in terms of market growth. The booming end-use industries, especially consumer electronics and semiconductors, increasing count of tech-savvy inhabitants, and technological advancements are responsible for the incessant increase in the requirement for these metals.
Browse detailed report on Rare Earth Elements Industry Trends, Development and Demand Forecast Report 2030
Europe will have the third-fastest growth in the years to come. This will mainly be due to the fact that European nations have substantial shares in the worldwide imports of rare earth metals.
Rare Earth Metals Market Size Breakdown by Segment
By Type
Cerium
Neodymium
Praseodymium
Lanthanum
Dysprosium
Terbium
Promethium
Yttrium & Scandium
Others
By Application
Catalysts
Ceramics
Phosphors
Glass and Polishing
Metallurgy
Magnets
Others
Regional Analysis
North America Rare earth metals market

By type
By application
By country – U.S. and Canada

Europe Rare earth metals market

By type
By application
By country – Germany, France, U.K., Italy, Spain, Russia, and Rest of Europe

Asia-Pacific Rare earth metals market

By type
By application
By country – Japan, China, India, South Korea, and Rest of APAC

Latin America, Middle East, and Africa Rare earth metals market

By type
By application
By country – Brazil, Argentina, Saudi Arabia, South Africa, and Rest of LAMEA
Browse More Reports Published by P&S
Metal Finishing Equipment Market Share Analysis by Process, End User – Global Industry Trends and Growth Forecast to 2030
Nanochemicals Market Share Analysis by Type, Application – Global Industry Growth Forecast to 2030
About P&S Intelligence
P&S Intelligence provides market research and consulting services to a vast array of industries across the world. As an enterprising research and consulting company, P&S believes in providing thorough insights on the ever-changing market scenario, to empower companies to make informed decisions and base their business strategies with astuteness. P&S keeps the interest of its clients at heart, which is why the insights we provide are both honest and accurate. Our long list of satisfied clients includes entry-level firms as well as multi-million-dollar businesses and government agencies.
Media Contact
Company Name: P&S Intelligence
Contact Person: Abhishek
Email: Send Email
Phone: +918887787886
Address:Noida Sector 2
City: Noida
State: UP
Country: India
Website: https://www.psmarketresearch.com/market-analysis/rare-earth-metals-market