Fabry Disease Market Insights, Treatment, and Market Report by DelveInsight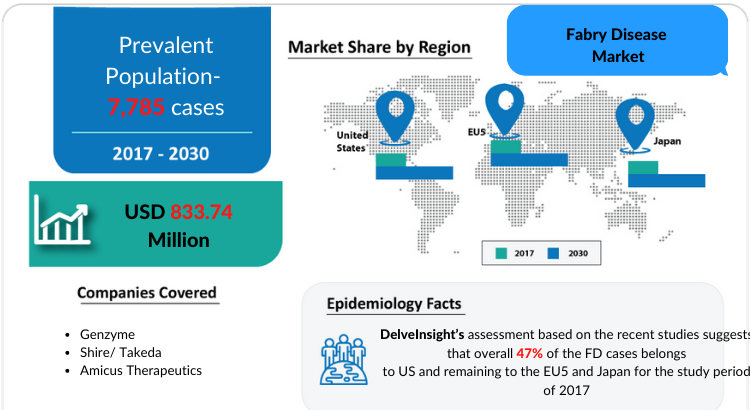 The Fabry Disease market report provides current treatment practices, emerging drugs, Fabry Disease market share of the individual therapies, current and forecasted Fabry Disease market Size from 2017 to 2030 segmented by seven major markets. The Report also covers current Fabry Disease treatment practice/algorithm, market drivers, market barriers and unmet medical needs to curate best of the opportunities and assesses the underlying potential of the market.
Fabry Disease Overview
Fabry disease (FD) is a devastating, progressive, inherited condition caused by lysosomal dysfunction linked to chromosome X and mutations in the GLA gene located in chromosome Xq22.1 which encodes the alpha-galactosidase A (AGA) enzyme. It is a multi-systemic and life-threatening condition which is one of the most common lysosomal storage diseases after the Gaucher Disease. It is characterized by specific neurological, cutaneous, renal, cardiovascular, cochleovestibular and cerebrovascular manifestations. The symptoms include chronic pain, usually a burning or tingling sensation in the hands and feet. The pain sometimes briefly becomes more intense, requiring medication to bring it down to manageable levels.
Download free sample copy- https://www.delveinsight.com/sample-request/fabry-disease-market
List of regions covered in the report
The United States
EU5 (Germany, France, Italy, Spain, and the United Kingdom)
Japan
List of companies involved in the report
Safoni Genzyme
Idorsia Pharmaceuticals
And many others
Fabry Disease Market: Report
The primary disease process starts in infancy, or even as early as in the fetal stage of development. In FD, lysosomal storage and cellular dysfunction are believed to trigger a cascade of events including cellular death, compromised energy metabolism, small vessel injury, K(Ca) channel dysfunction in endothelial cells, oxidative stress, impaired autophagosome maturation, tissue ischemia and, importantly, development of irreversible cardiac and renal tissue fibrosis.
Fabry Disease Market: Classification
Fabry Disease is classified as the Type 1 classic and Type 2 later-onset on the basis of phenotype of the disease. Both sub-types result in renal failure, and/or cardiac disease, and early death. Type 2 later-onset Fabry Disease is more frequent as compared to Type 1 classic Fabry Disease.
Fabry Disease Market: Symptoms
Symptoms of the disorders like Schindler disease, Gaucher disease, Fucosidosis, Erythromelalgia can be similar to those of Fabry disease. Thus Comparisons may be useful for a differential diagnosis. Fabry disease, at first can resemble normal growing pains or arthritis, but other symptoms start to appear with time. Fabry is confirmed with a test measuring levels of alpha-galactosidase. If low levels of the enzyme are found, genetic testing for the mutated GLA gene is done.
Fabry Disease Market: Treatment
Treatment of Fabry disease focuses on medications that improve the patient's quality of life. Pain relievers, including Tegretol and Dilantin, are used to combat episodes of intense pain. Gastrointestinal problems may be remedied with pancrelipase. Heart and anti-clotting medications may be used along with pacemakers to prevent heart attacks. Angiotensin-converting enzyme (ACE) inhibitors and angiotensin receptor blockers (ARBs) are used to combat kidney disease, enzyme replacement therapies that give patients forms of alpha-galactosidase, the enzyme they are missing.
Fabry Disease Market: Insights
The effective management of Fabry disease requires a multidisciplinary approach. Comprehensive therapy includes intravenously administered enzyme replacement therapy (ERT) or Oral Chaperone Therapy, conventional medical treatment, and adjunct therapies, and may include lifestyle modifications and prophylactic medications. The therapeutic goals aimed for in the context of multimodal care include reduction of complaints (especially pain reduction), delaying/preventing the progression of organ manifestations (especially in the kidney, heart, and central nervous system), improvement of quality of life, and normalization of life expectancy.
Fabry Disease Market: Forecast
Despite all the available treatments, Fabry disease is among the most difficult to evaluate and manage. Clinicians are frequently challenged to differentiate symptoms related to disease activity as the primary disease process starts in infancy, or even as early as in the fetal stage of development.
Fabry Disease Market: Emerging Therapy
The current emerging landscape for Fabry disease mainly comprising of Phase II and Phase III candidate drugs. The key players for phase II and III clinical development are Lucerastat (Idorsia Pharmaceuticals), Pegunigalsidase alfa (Protalix Biotherapeutics), AVR-RD-01 (Avrobio), Venglustat (Sanofi Genzyme), ST-920 (Sangamo Therapeutics), 4D-310 (4D Molecular Therapeutics), and others.
Fabry Disease Market: Report Scope
The report covers the descriptive overview of Fabry Disease, explaining its causes, signs and symptoms, pathophysiology, diagnosis and currently available therapies
Comprehensive insight has been provided into the Fabry Disease epidemiology and treatment in the 7MM
Additionally, an all-inclusive account of both the current and emerging therapies for Fabry Disease are provided, along with the assessment of new therapies, which will have an impact on the current treatment landscape
A detailed review of Fabry Disease market; historical and forecasted is included in the report, covering drug outreach in the 7MM
The report provides an edge while developing business strategies, by understanding trends shaping and driving the global Fabry Disease market
Download free sample copy- https://www.delveinsight.com/sample-request/fabry-disease-market
Table of content
1. Key Insights
2. Executive Summary of Fabry Disease
3. Competitive Intelligence Analysis for Fabry Disease
4. Fabry Disease: Market Overview at a Glance
5. Fabry Disease: Disease Background and Overview
6. Patient Journey
7. Fabry Disease Epidemiology and Patient Population
8. Treatment Algorithm, Current Treatment, and Medical Practices
9. Unmet Needs
10. Key Endpoints of Fabry Disease Treatment
11. Marketed Products
12. Emerging Therapies
13. Fabry Disease: Seven Major Market Analysis
14. Attribute analysis
15. 7MM: Market Outlook
16. Access and Reimbursement Overview of Fabry Disease
17. KOL Views
18. Market Drivers
19. Market Barriers
20. Appendix
21. DelveInsight Capabilities
22. Disclaimer
23. About DelveInsight
Fabry Disease Market: Report Highlights
In the coming years, Fabry Disease market is set to change due to the rising awareness of the disease, and incremental healthcare spending across the world; which would expand the size of the market to enable the drug manufacturers to penetrate more into the market
The companies and academics are working to assess challenges and seek opportunities that could influence Fabry Disease R&D. The therapies under development are focused on novel approaches to treat/improve the disease condition
Major players are involved in developing therapies for Fabry Disease. Launch of emerging therapies will significantly impact the Fabry Disease market
A better understanding of disease pathogenesis will also contribute to the development of novel therapeutics for Fabry Disease
Our in-depth analysis of the pipeline assets across different stages of development (Phase III and Phase II), different emerging trends and comparative analysis of pipeline products with detailed clinical profiles, key cross-competition, launch date along with product development activities will support the clients in the decision-making process regarding their therapeutic portfolio by identifying the overall scenario of the research and development activities.
Why should you buy this report?
The report will help in developing business strategies by understanding trends shaping and driving the Fabry Disease market
To understand the future market competition in the Fabry Disease market and Insightful review of the key market drivers and barriers
Organize sales and marketing efforts by identifying the best opportunities for Fabry Disease in the US, Europe (Germany, Spain, Italy, France, and the United Kingdom) and Japan
Identification of strong upcoming players in the market will help in devising strategies that will help in getting ahead of competitors
Organize sales and marketing efforts by identifying the best opportunities for Fabry Disease market
To understand the future market competition in the Fabry Disease market
About Us
DelveInsight is a Business Consulting and Market research company, providing expert business solutions for life science vertical and offering quintessential advisory services in the areas of R&D, Strategy Formulation, Operations, Competitive Intelligence, Competitive Landscaping, and Mergers & Acquisitions.
Media Contact
Company Name: DelveInsight Business Research LLP
Contact Person: Yash Bhardwaj
Email: Send Email
Phone: +919650213330
Address:304 S. Jones Blvd #2432
City: Las Vegas
State: NV
Country: United States
Website: https://www.delveinsight.com/